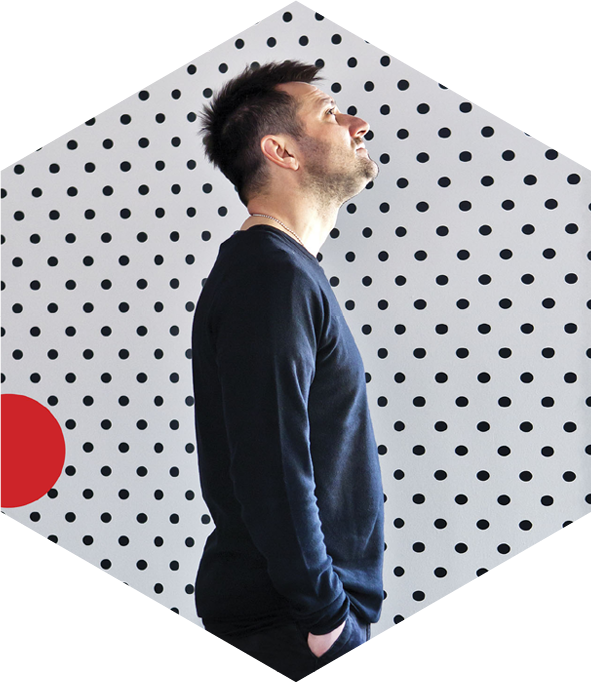 19.03.2023 | 17:00 - 17:30​
CURSOR DESIGN STUDIO: Never-ending stories
// EN
Apostolos Tsiovaras had a vision and he wanted to go after it.
So, he built a starship: CURSOR DESIGN STUDIO.
He charged it with everything he got: desire, dreams and passion … and he took off.
He stepped on and he flew out, to the roadways of light.
Next station on this journey: Nicosia.
Share with him a never-ending story. Just with a beginning!
// GR
Cursor Design Studio: Ατελείωτες ιστορίες
O Απόστολος Τσιοβάρας είχε ένα όραμα και ήθελε να το κυνηγήσει. 
Έτσι, κατασκεύασε ένα αστρόπλοιο: το CURSOR DESIGN STUDIO. 
Φόρτωσε εκεί ό,τι είχε: επιθυμίες, όνειρα, πάθος… και ξεκίνησε.
Πάτησε γκάζι και ξεχύθηκε στις λεωφόρους τους φωτός.
Επόμενη στάση στο ταξίδι του: η Λευκωσία.
Μοιράσου μαζί του μια ιστορία δίχως τέλος. Μόνο με αρχή!
// EN
Apostolos Tsiovaras has been born passionate with aesthetics, an issue mastered by studying graphic design in Politehno School of Arts (1994-96 Larissa Greece). Ever since, he creates and makes dreams ride on ''Cursor'', the Design Studio that he established in 2002.
Leading Cursor Design Studio, Apostolos Tsiovaras successfully accomplishes the communication of business, services and products to the global market. He considers each new mission as a challenge for his professionalism, talent, enthusiasm and passion: recognizable characteristics throughout the full range of his work. He faces up branding as the ultimate communicative synesthesia and he faithfully serves all its functions: naming, logos, corporative identities, packaging, natural and digital promotion, web design and art direction.
// GR
O Απόστολος Τσιοβάρας γεννήθηκε με το πάθος της αισθητικής, το οποίο κατάφερε να δαμάσει σπουδάζοντας τη γραφιστική τέχνη στο Εργαστήριο Ελευθέρων Σπουδών Πολύτεχνο(1994-96 στη Λάρισα). Έκτοτε δημιουργεί και ονειρεύεται, με όχημα το στούντιο που ίδρυσε το 2002: το Cursor Design Studio.
Ως επικεφαλής του Cursor Design Studio, o Απόστολος Τσιοβάρας ολοκληρώνει με επιτυχία την επικοινωνία των επιχειρήσεων, των υπηρεσιών και των προϊόντων που του εμπιστεύονται στην παγκόσμια αγορά. Θεωρεί κάθε νέα αποστολή και μία πρόκληση για τον επαγγελματισμό, το ταλέντο, τον ενθουσιασμό και το πάθος του: χαρακτηριστικά γνωρίσματα σε όλο το εύρος της δουλειάς του. Αντιμετωπίζει το branding ως την υπέρτατη επικοινωνιακή συναίσθηση και υπηρετεί πιστά όλες του τις λειτουργίες: όνομα, λογότυπο, εταιρική ταυτότητα, συσκευασία, φυσική και ψηφιακή προβολή, σχεδιασμός ιστοσελίδων και art direction.