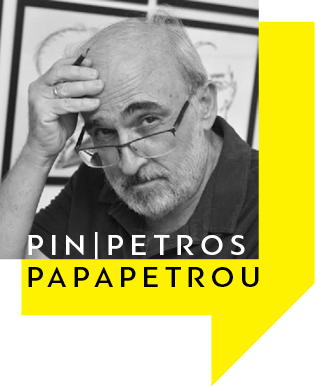 WHAT IS CARTOON, SKETCH, SATIRE, HUMOUR
What is cartoon, sketch, satire, humour. The first cartoons in Cypriot newspapers, the pioneering Cypriot cartoonists, the current generation of cartoonists, the role of cartoons in the Cypriot press, the current state of publications hosting cartoons, the emergence of online media and how cartooning is adapting to the new landscape. What does a cartoon include to be successful and win over the reader.
Pin's personal story, how he started, how he evolved, how he established himself in the field, where he gets his ideas from, how politicians and others react to cartoons, personal experiences and creative techniques.
Petros Papapetrou, known as "Pin", has been a cartoonist for the newspaper "Phileleftheros" since 1987. His cartoons and sketches have been used in book illustrations, educational seminars, T-shirts, TV shows, advertising campaigns and as animated cartoons. He has published three books of his cartoons. He has participated in various international and local cartoon exhibitions and has won various awards and honorary distinctions in Cyprus and abroad. He is also a professional graphic designer. In 1980 he established a Graphic Arts Studio in Nicosia and in 2012, a Cartooning and Sketching Workshop.