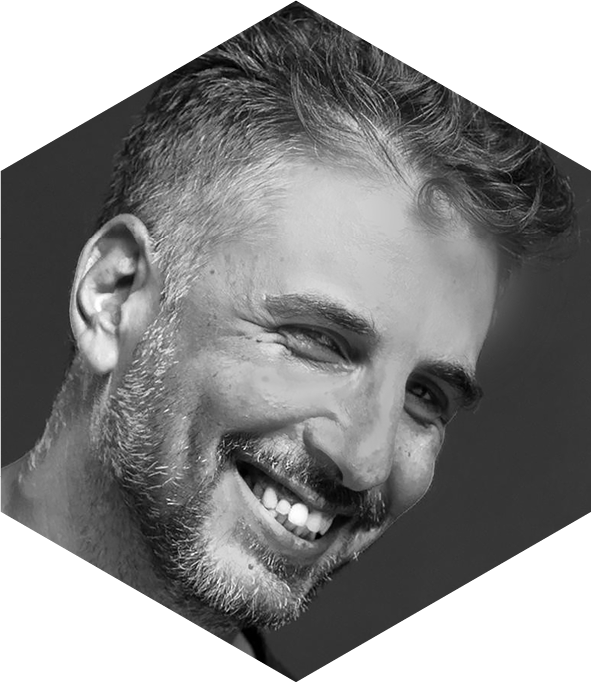 17.03.2023 | 14:00 - 19:30​
18.03.2023 | 10:30 - 17:00​
// EN
Have you always wanted to create your own worlds (a.k.a. God syndrome)?
As part of Graphic Stories Cyprus 2023, I will be happy to present a Visual Worldbuilding Workshop, and the steps from the initial idea to the final result. My goal is to share my experience of working over the past two years and creating the world of Dimday Red, the upcoming tabletop and PC RPG.
The workshop is for those who would like to create their own imaginary world ready to accept all kinds of stories. Writing and design experience is not necessary. Mood for cosmic creation (or destruction :)) is required!
Key points:
Positioning the original idea
Setting and ignoring the rules
Mindmapping and structuring of ideas
Visual composition and storytelling
Visualization of ideas and the world
Hands on & Q&A sessions will be held and a PDF with relevant material will be provided.
This workshop is designed for creators who:
Are interested in concept art for games and stories
Always wanted to create their own worlds
Want to upgrade their environmental illustration skills
Don't have any previous experience with concept art and want to get involved
Requirements:
Laptop
Photoshop or similar software
Basic knowledge on the above software
Thirst for creation!
Workshop duration: 2 days
// GR
Θέλατε πάντα να δημιουργήσετε δικούς σας κόσμους (a.k.a. God syndrome); 
Στα πλαίσια του Graphic Stories Cyprus 2023, με χαρά θα παρουσιάσω ένα Visual Worldbuilding Workshop, και τα βήματα από την αρχική ιδέα μέχρι το τελικό αποτέλεσμα. O στόχος μου είναι να μοιραστώ την εμπειρία μου από τη δουλειά μου τα τελευταία δύο χρόνια και τη δημιουργία του κόσμου του Dimday Red, του επερχόμενου επιτραπέζιου και PC RPG.
Το workshop αφορά όσους θα ήθελαν να δημιουργήσουν ένα δικό τους φανταστικό κόσμο έτοιμο να δεχτεί κάθε είδους ιστορίες. Συγγραφική και σχεδιαστική εμπειρία δεν είναι αναγκαία. Διάθεση για κοσμογονική δημιουργία (ή καταστροφή :)) είναι απαραίτητη!
Key points:
Τοποθέτηση της αρχικής ιδέας
Ορίζοντας και παραβλέποντας τους κανόνες
Mindmapping και δόμηση των ιδεών
Οπτική σύνθεση και storytelling
Οπτικοποίηση των ιδεών και του κόσμου
Θα πραγματοποιηθούν hands on & Q&A sessions και θα δοθεί PDF με σχετικό υλικό.
Αυτό το workshop έχει σχεδιαστεί για δημιουργούς που:
Ενδιαφέρονται για το concept art για παιχνίδια και ιστορίες
Πάντα ήθελαν να δημιουργήσουν τους δικούς τους κόσμους
Θέλουν να αναβαθμίσουν τις δεξιότητές τους στην απεικόνιση περιβάλλοντων
Δεν έχουν προηγούμενη εμπειρία με το concept art και θα ήθελαν να ασχοληθούν
Απαιτήσεις:
Laptop
Photoshop ή παρόμοιο λογισμικό
Βασικές γνώσεις στο παραπάνω λογισμικό
Δίψα για δημιουργία!
Διάρκεια workshop: 2 ημέρες
// EN
Spiros Drakatos became engaged with graphic design some 30 years ago, because at the time it seemed like a good idea. After his occasionally fascinating studies in Athens and London, he came back to the motherland, determined to change the world through design.
He devoted about a third of his life to teaching and tried to persuade an upcoming generation of young graphic designers that visual communication is not all about pretty pictures. He still wonders if the message came through.
He found meaning in his professional life by co-creating several design studios, Spir.to Branding being the latest and most important. Through it, he satisfies his schizophrenic tendencies between applied and artistic communication. His work spans through the whole range of visual communication and it has been internationally awarded.
Since 2020 he has been involved in the creation and development of Dimday Red, a post apocalyptic world that has given birth to PC and a tabletop RPG, a comic book and written stories. It seems that creating about the end of the world has become his favorite pastime.
He hasn't got a biographer yet, so he writes his own bios, mostly in the third person.
// GR
Ο Σπύρος Δρακάτος ασχολήθηκε με τη γραφιστική πριν από περίπου 30 χρόνια, γιατί τότε φαινόταν καλή ιδέα. Μετά τις κατά καιρούς συναρπαστικές του σπουδές στην Αθήνα και το Λονδίνο, επέστρεψε στη μητέρα πατρίδα, αποφασισμένος να αλλάξει τον κόσμο μέσω του design.
Αφιέρωσε περίπου το ένα τρίτο της ζωής του στη διδασκαλία και προσπάθησε να πείσει μια επερχόμενη γενιά νέων γραφιστών ότι η οπτική επικοινωνία δεν είναι μόνο όμορφες εικόνες. Εξακολουθεί να αναρωτιέται αν πέρασε το μήνυμα.
Βρήκε νόημα στην επαγγελματική του ζωή συνδημιουργώντας έναν αριθμό design studios, με το Spir.to Branding να είναι το τελευταίο και πιο σημαντικό. Μέσα από αυτό ικανοποιεί τις σχιζοφρενικές του τάσεις μεταξύ εφαρμοσμένης και καλλιτεχνικής επικοινωνίας. Το έργο του εκτείνεται σε όλο το φάσμα της οπτικής επικοινωνίας και έχει βραβευτεί διεθνώς.
Από το 2020 ασχολείται με τη δημιουργία και την ανάπτυξη του Dimday Red, ενός μετα-αποκαλυπτικού κόσμου που έχει αποδώσει ένα PC και ένα επιτραπέζιο RPG, ένα κόμικ και γραπτές ιστορίες. Φαίνεται ότι η δημιουργία γύρω από το τέλος του κόσμου έχει γίνει η αγαπημένη του ασχολία.
Δεν έχει ακόμα βιογράφο, οπότε γράφει τα δικά του βιογραφικά, κυρίως σε τρίτο πρόσωπο.