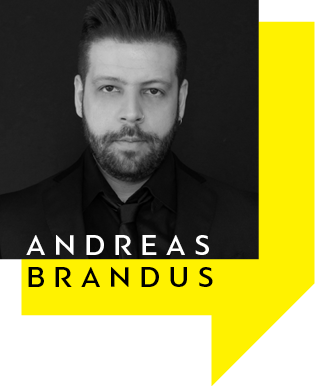 THE IDENTIFICATION OF BRANDING TOLERANCE GROUPS FOR A SUCCESSFUL CREATIVE STRATEGY
When designing, developing or communicating a brand, it is near to impossible that the result will be perfect or that it will always satisfy every customer of the marketplace. No matter how much effort we put into, we can never guarantee it. Consumers have very personal relationships not only to particular brands, but also to the use of brands as tools in the definition of their identity. There are five main categories of branding tolerance, reflecting different levels and types of relationships to branding. In this lecture presentation the speaker will identify and present these categories emphasising their importance for a successful creative strategy.
The seminar presents a comprehensive approach to branding, based on the principles developed and used in Business Brand Strategy. The main goal is to give to the modern designer/advertiser the supplies that will help him shape and create effectively the visual identity and communication of a brand while always remaining up to date and in demand.
Despite the lectures that will take part and provide the required theoretical background, the speaker will share his experience and give valuable advice as a specialist in the field of Branding & Strategy. The seminar is targeted to professional visual communicators, whether they work as freelancers or employees, as well as to entrepreneurs / executives who are responsible for the Branding Strategy Development and Planning of the Brand. Finally, the seminar will provide useful information to students who are just starting or want to redefine their careers in the field.
A man who has proven himself to be a perceptive visionary and creative innovator with a passion for minimal style and modern aesthetics. After graduating from Middlesex University London/AKTO in 2009, Andreas immediately dove into the deep waters of the advertising business. He started his career as a freelance designer (2009 – 2010) and rapidly advanced to the position of art director at the international award-winning Parachute TypeFoundry (2010 – 2012) which was based out of Athens and London and specialized in type design, typography and branding. Parachute's clientele included multinational companies such as: Bank of America, European Commission, UEFA, Samsung, IKEA, Interbrand, National Geographic, the Financial Times and more.
Having gained experience and expertise by working with brands and products in a corporate environment, Andreas became a branding specialist and decided to take a new step in his career. In 2012 he co-founded Corn Studio, a fresh and modern agency which swiftly became one of the most talked about design agencies in Athens, Greece. Andreas served as the studio's co-owner and creative director for the next seven years (2012-2019). During his time with Corn Studio, he achieved even greater success by working with world-renowned international and Greek companies such as Netflix Inc., Entertainment Weekly, H&M Greece, L'Officiel Hellas, Grant Thornton, Upstream, John S. Latsis Public Benefit Foundation, AKTO Art & Design College, and more. The reputation of Corn Studio in Greece quickly flourished after its collaboration and design partnership with Netflix Inc., the leaders of the worldwide entertainment industry, was officially announced. Andreas was featured in multiple interviews, newspapers, and blog articles in the Greek media and was seen as a success story of young Greek entrepreneurs who managed to thrive during the Greek economic crisis, achieving global recognition and domestic respect. He established the studio as one of the top individual design agencies in Greece, participating in various design conferences in Greece and Cyprus. 
In 2020, Andreas creates Brandus, taking another step forward as an accomplished entrepreneur. The in-depth experience he had gained in the past decade from working in various fields within design and advertising had led him to master his skills in developing high-end visual strategies for corporate brands, products and services. Brandus is a multi-disciplinary, creative media agency offering high-quality media and advertising services to visionary brands around the world with one goal in mind: image that functions. Brandus is a means of embracing the modern era of the digital world and the high speed evolution of design, advertising, and digital media. Τhe company's clientele includes multinational companies and corporations, manufacturers, visionary start-ups and business owners with dreams to stand out and lead their field around the globe