CARTOON ILLUSTRATOR & GRAPHIC DESIGNER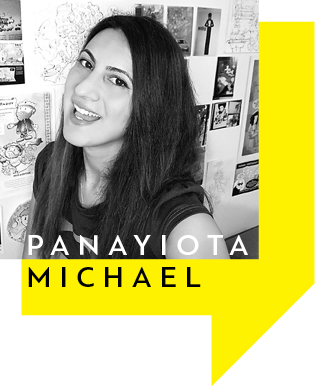 During the Cartoon Animation Workshop, kids will get inspired by the animal kingdom to express their own understanding of Diversity. Through experimentation they will be able to explore different scenarios and communicate their messages to the world. They will be guided to design their own original characters which then will be used to create a 3mins Stop Motion movie. 
Panayiota Michael was born in Paphos in 1987 and she studied Illustration for Animation in the United Kingdom. She works as a Graphic Designer & Cartoon Illustrator in Paphos where she participated in a variety of art projects and workshops. In 2009 she represented Cyprus in Brussels at the Eurocartoon Exhibition as she was honored with the 1st Prize in the National Cartoon Contest in Cyprus. In 2014 she was invited to visit public schools in order to present the profession of cartoon artist and show to hundreds of kids how to design their own cartoons.