Graphic Stories Cyprus is a Non-Profit Organization that has established the annual conference on Graphic Design and Visual Communication in Cyprus, under the same name, since 2015. Graphic Stories is the only established, independent, annual, official conference in the field of visual communication and visual arts, graphic design, illustration, typography, semiotics, animation, photography, multimedia design, internet and web design, calligraphy, branding and design in general. It was founded and organized by Aggeliki Athanasiadi and Miltos Karras and aims to promote and raise awareness in relation to the visual arts, locally and abroad and to encourage networking with cultural institutions, organizations and contemporary art groups internationally. It is an opportunity for meeting and interaction between designers in Cyprus and abroad on an annual basis. It also aims to cultivate visual literacy and the perceptual development of critical thinking about contemporary visual arts and related issues, both locally and internationally.
Through the organization of conferences, lectures, exhibitions and workshops, it aims to demonstrate and promote the value of visual communication to the public and its connection to events in social fields. At the same time, the implementation of the above actions aims to cultivate professional empathy among visual communication designers in Cyprus.
Finally, it aims at preserving and promoting the cultural heritage of the island in Cyprus and abroad in relation to the visual and applied arts, with parallel activities such as the creation of the Design Forum – 10′ Design Talk and the production of educational publications.
The Conference is addressed to all creatives in the field of visual communication, applied and visual arts, professionals, students, graphic designers, web designers, UX / UI designers, illustrators, photographers, animators, 2D / 3D designers, printmakers, creative studios, advertisers, marketers, their associates as well as those who are interested in learning about the profession of visual communication designer.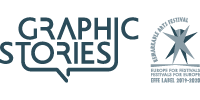 Graphic Stories Cyprus, among the best festivals in Europe!
The Conference on Graphic Design and Visual Communication, Graphic Stories was selected by the European Festivals Association (EFA) as one of the best festivals in Europe and was awarded the Europe's quality stamp, EFFE Label, for the period 2019-2021. The EFFE Label Award is awarded every two years to the remarkable art festivals that show their commitment to the arts, community involvement and have an international reach. The EFFE (Europe for Festivals, Festivals for Europe) is an initiative launched by the European Union Festival (EFA) and supported by the European Commission and the European Parliament.
We would like to thank all those who support us, sponsors, supporters, collaborators, volunteers, creative contributors and of course the public of Graphic Stories. We are waiting for you in the next Graphic Stories.