Graphic Stories Cyprus is a Non–Profit Organization that has established the annual Conference on Graphic Design and Visual Communication, in Cyprus, under the same name, from 2015. It was founded and organized by Aggeliki MK Athanasiadi and Miltos Karras and aims to promote awareness of the Cyprus visual arts, locally and abroad and to encourage networking with cultural institutions, organizations and contemporary art groups internationally. It is an occasion for meeting and interaction between designers in Cyprus and abroad annually and also a benchmark for the field of visual communication in Cyprus and in the broader region of the eastern Mediterranean. It also aims at cultivating visual literacy and perceptual development of critical thinking concerning contemporary visual arts and their subjects of interest, both locally and internationally.
Through the organization of conferences, lectures, exhibitions, and workshops, it aims to demonstrate and promote the value of visual communication to the public and its connection with the happenings in the social field. At the same time, the implementation of the above actions aims at cultivating professional empathy between visual communication designers of Cyprus.
Finally it aims to preserve and promote the cultural heritage of the island in Cyprus and abroad in relation to visual and applied arts.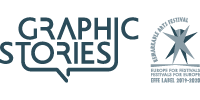 Graphic Stories Cyprus, among the best festivals in Europe!
The Conference on Graphic Design and Visual Communication, Graphic Stories Cyprus was selected by the European Festivals Association (EFA) as one of the best festivals in Europe and was awarded the Europe's quality stamp, EFFE Label, for the period 2019-2021. The EFFE Label Award is awarded every two years to the remarkable art festivals that show their commitment to the arts, community involvement and have an international reach. The EFFE (Europe for Festivals, Festivals for Europe) is an initiative launched by the European Union Festival (EFA) and supported by the European Commission and the European Parliament.
We would like to thank all those who support us, sponsors, supporters, collaborators, volunteers, creative contributors and of course the public of Graphic Stories Cyprus. We are waiting for you on the 7th Conference on Graphic Design and Visual Communication, Graphic Stories Cyprus, 21-23 May 2021.