ASSOCIATE PROFESSOR IN GRAPHIC DESIGN
Alexander College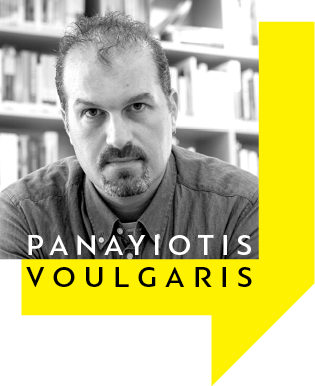 IS THERE A NEED FOR BETTER GRAPHIC DESIGNERS IN CYPRUS?
Is there a need for better graphic designers in Cyprus? Where do the Cypriot academic institutions lag and where do they excel? How can we make better graphic designers? Have market needs changed in recent years? If so, how do our graduates manage to integrate quickly into the market? What "should" change in the various design courses that exist today in Cyprus? In the last 20 years or so that I have been teaching graphic arts, some questions/concerns have arisen from time to time. The aforementioned are some and I will try through specific research but also through various discussions with professionals and academics in the field to give some answers or perhaps we can make a good start for further discussions on the subject. The findings of the research will be presented to the public during the next conference.
Panayiotis Voulgaris is an Associate Professor in Graphic Design in tertiary education level, and has been an active lecturer since 2002 while holding various position during his academic career. He has been the course leader for the BA Graphic Design Course and then the course leader of the MA Design course since 2010 at Alexander College.
Panayiotis studied BTEC H.N.D (Dewsbury College), BA (Hons) Graphic Design at the University of Derby, PGDip in Graphic Design at the University of Derby, MA European Media (EMMA) at the University of Portsmouth and MBA Education Leadership and Management (with Distinction) at the Canterbury Christ Church University. Panayiotis is a senior academic with a strong background in commercial graphic design and digital media.  He is a proactive, adaptable and conscientious self-starter professional.  Alongside running a commercial design studio since 2001, he has the practical experience of teaching, developing and rolling out new courses and modules at undergraduate, and post graduate level.
Panayiotis has taught various modules and subjects during his academic experience at postgraduate and undergraduate levels (e.g. typography, corporate identity, packaging, conceptual exploration, personal and final projects, advertising campaigns, web design, and other subjects in the Graphic Design field). He has supervised around 170 Personal and Final Graphic Design Projects at undergraduate level and approximately 60 Final Projects at Masters level.  Always the creative, he has a knack for identifying and exploiting opportunities that challenge convention and improve student performance. 
A diplomatic, articulate and inspirational communicator, Panayiotis is equally effective working on his own, or as part of a wider team, demonstrating strong leadership, coaching and mentoring skills. He consistently works to the highest professional standards and thrives when delivering challenging projects that yield multiple organization benefits.  Panayiotis has a keen interest in information technology and information systems and always seeks to increase his knowledge in this field.
Panayiotis has taken part in three graphic design and photography exhibitions in Cyprus. He also took part at the 1st Design Forum – 10' Design Talk as one of the main speakers of the conference in November 2019 at Frederick University, and as a Co-organiser at the 3rd Design Forum – 10' Design Talk in November 2021 at Alexander College organised by Graphic Stories Cyprus. His research moves between several fields of graphic design and education in graphic design. He always tries to update his knowledge as far as new technologies and trends are concern and especially in the fields that teaching is involved. Some of the fields of research are corporate identity, online media, typography, education etc.