COMMUNICATION CONSULTANT, BUSINESS COACH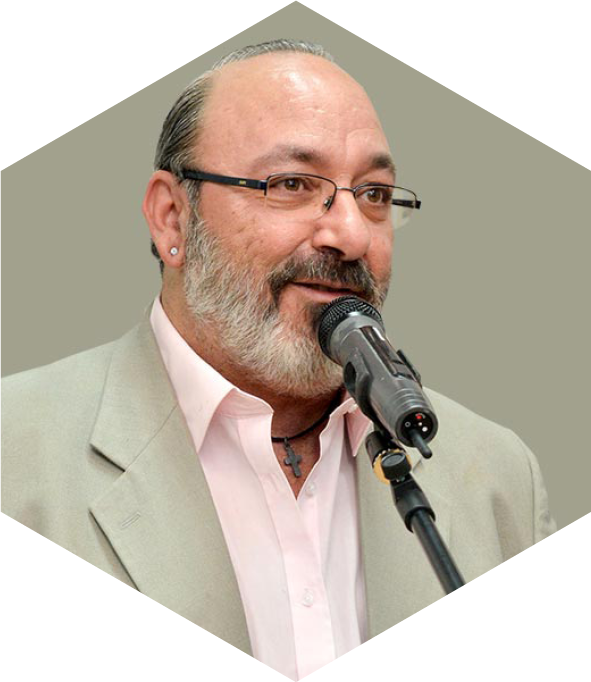 18.03.2023 | 17:30 - 19:30​
// EN
"Youth has the answers to difficult questions!"
In an ever-evolving world, adaptability is an absolutely essential skill. It is a skill that people bring with them when they are born and which is lost over the years.
The new generation possesses this skill in abundance, because it is combined with modern conditions of technology and development, but at the same time with fresh ideas, creativity and imagination.
In this two hour workshop we will develop ideas and suggestions for the necessary skills for personal and professional development. Ideas for Interaction and Communication, for Active Listening and Empathy and finally for Love and Self-Love.
" When you give space and time to youth – and those who feel young – to express themselves they will pleasantly surprise you and lead you to new wonderful worlds of knowledge and creation".
//GR
"Στην δύσκολη ερώτηση, οι νέοι έχουν την απάντηση"!
Σε ένα κόσμο που διαρκώς εξελίσσεται η προσαρμοστικότητα είναι μια δεξιότητα απολύτως απαραίτητη. Είναι μια δεξιότητα που οι άνθρωποι φέρνουν μαζί τους όταν γεννιούνται και η οποία χάνεται στην πορεία των χρόνων.
Αυτή την δεξιότητα διαθέτει σε πλούτο η νέα γενιά, γιατί συνδυάζεται με σύγχρονες συνθήκες τεχνολογίας και ανάπτυξης, αλλά ταυτόχρονα με φρέσκες ιδέες, δημιουργικότητα και φαντασία.
Ένα δίωρο εργαστήρι κατά το οποίο θα αναπτύξουμε ιδέες και προτάσεις για τις δεξιότητες που είναι απαραίτητες για προσωπική και επαγγελματική ανάπτυξη. Ιδέες για Αλληλεπίδραση και Επικοινωνία, για Ενεργή Ακρόαση και Ενσυναίσθηση και τέλος για την Αγάπη και την Αυτοαγάπη.
Όταν δώσεις χώρο και χρόνο στους νέους -και όσους όσοι αισθάνονται νέοι- να εκφραστούν θα σε εκπλήξουν ευχάριστα και θα σε οδηγήσουν σε καινούριους υπέροχους κόσμους γνώσης και δημιουργίας.
// EN
Lakis Argyrou holds a BSc in Communications, specializing in Public Relations (London Henshall Center – PR School). He is a graduate of the National and Kapodistrian University of Athens (Executive and Corporate Coaching and Mentoring), while with a scholarship he attended an intensive University program on "Leadership and Community Service" at the American University in Washington D.C.
He is a Certified Trainer by the Human Resource Development Authority (HRDA) of Cyprus (Certification Number: SEP 002789) and an examination inspector for certification of qualifications. He is also a Certified Mediator-Arbitrator, for alternative methods of conflict resolution.
Motivational Speaker and Lecturer of Seminars, Workshops and Lectures since 1999 in Cyprus, Greece and abroad.  He has excellent knowledge of Greek and English.
He is the Director of the Vocational Training Center RTD Talos LTD.
// GR
Ο Λάκης Αργυρού είναι Πτυχιούχος Επικοινωνίας (BSc in Communications) με εξειδίκευση στις Δημόσιες Σχέσεις (London Henshall Center – PR School). Είναι απόφοιτος του ΕΚΠΑ (Executive and Corporate Coaching and Mentoring), ενώ με υποτροφία παρακολούθησε ένα εντατικό Πανεπιστημιακό πρόγραμμα σε θέματα "Leadership and Community Service" στο American University στην Washington D.C.
Είναι Πιστοποιημένος Εκπαιδευτής από την Αρχή Ανάπτυξης Ανθρώπινου Δυναμικού (ΑνΑΔ) Κύπρου (Αρ. Πιστοποίησης: ΣΕΠ 002789) και επιθεωρητής εξετάσεων για πιστοποίηση προσόντων. Είναι, επίσης, Πιστοποιημένος Διαμεσολαβητής-Διαιτητής, για εναλλακτικές μεθόδους επίλυσης συγκρούσεων.
Παρακινητικός Ομιλητής και Εισηγητής Σεμιναρίων, Εργαστηρίων και Διαλέξεων από το 1999 στην Κύπρο, την Ελλάδα και το εξωτερικό.
Είναι Διευθυντής του Κέντρου Επαγγελματικής Κατάρτισης RTD Talos LTD.